Breastplate of Righteousness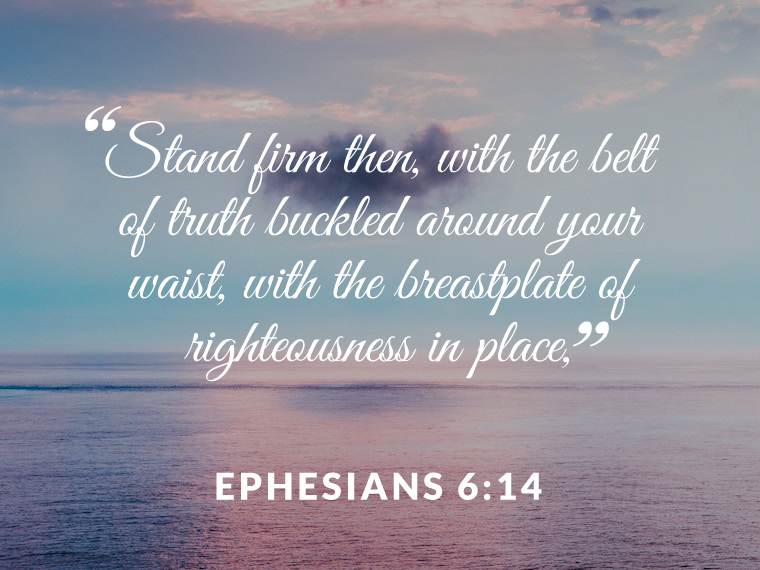 "Stand firm then, with the belt of truth buckled around your waist, with the breastplate of righteousness in place, "
Ephesians 6:14
Last week we put the belt of truth on and made the conscious decision to wear it proudly every day.  This week we are going to talk about the breastplate of righteousness.
What is righteousness?  Webster's dictionary defines righteousness as acting in accord with divine or moral law, free from guilt or sin.  While we agree with the definition, we believe that it goes deeper than that.  Righteousness is doing what it right by God's standards. 
Why did God give us a breastplate of righteousness, why not an arm guard?  God gave us a breastplate of righteousness to protect our vital organs.  In the armor of a Roman soldier, the breastplate served as protection for some of the most important parts of the body.  Underneath the breastplate is the heart, lungs and other organs vital for life.  Therefore, if a soldier did not wear his breastplate, he was vulnerable to an attack that could result in instant death. 
So, why does Paul call it the breastplate of righteousness?  If we do not protect ourselves with righteousness, we open ourselves up to an attack from the enemy and can fall into sin.
Unfortunately, our sinful nature often gets in the way of living an upright life.  When we decide to live based on our own desires rather than God's, we make decisions that are harmful to others and ourselves.  Romans 8:6 says, "So letting your sinful nature control your mind leads to death.  But letting the Spirit control your mind leads to life and peace."
How do we put on the breastplate of righteousness? 
We can start by being knowledgeable of God's Word, which will allow us to understand how to live a righteous life.  When trials and temptation come our way, we can make our decisions based on His Word.
In addition, through prayer, we can ask God to empower us to resist living in sin and to do what is right according to Him.  1 John 3:22 says, "And we will receive from him whatever we ask because we obey and do the things that please him."
As Christians, we can put on the breastplate of righteousness in our daily lives.  In becoming aware of the decisions we make, we can determine whether or not they are based in God's Word.  In addition, we can ask Him to give us the strength to live righteously.  Ultimately, this will allow us to withstand attacks from the enemy (satin) and live in ways that glorify Christ.
Now that we have the belt of truth and the breastplate of righteousness, we have a great foundation for living an amazing life.
Prayer
God we come to you today to thank you for giving us this protection. We know that you didn't have to give it to us and we are thankful that you chose to help us. Lord we ask that you help us to make righteous decisions throughout our lives. We ask that you protect our heart as we battle the everyday sin that we encounter. We know that in your strength there is nothing that we cannot do. You have the power to raise mountains and calm the raging see. We are so grateful that you live in us. Help us to honor you by living a righteous life. Thank you lord
Amen
Will you pray with us?
Mankind throughout the world throughout our current situation
All Law enforcement and emergency response personnel
For all military personal serving our country and their families
Those in Leadership positions throughout the world