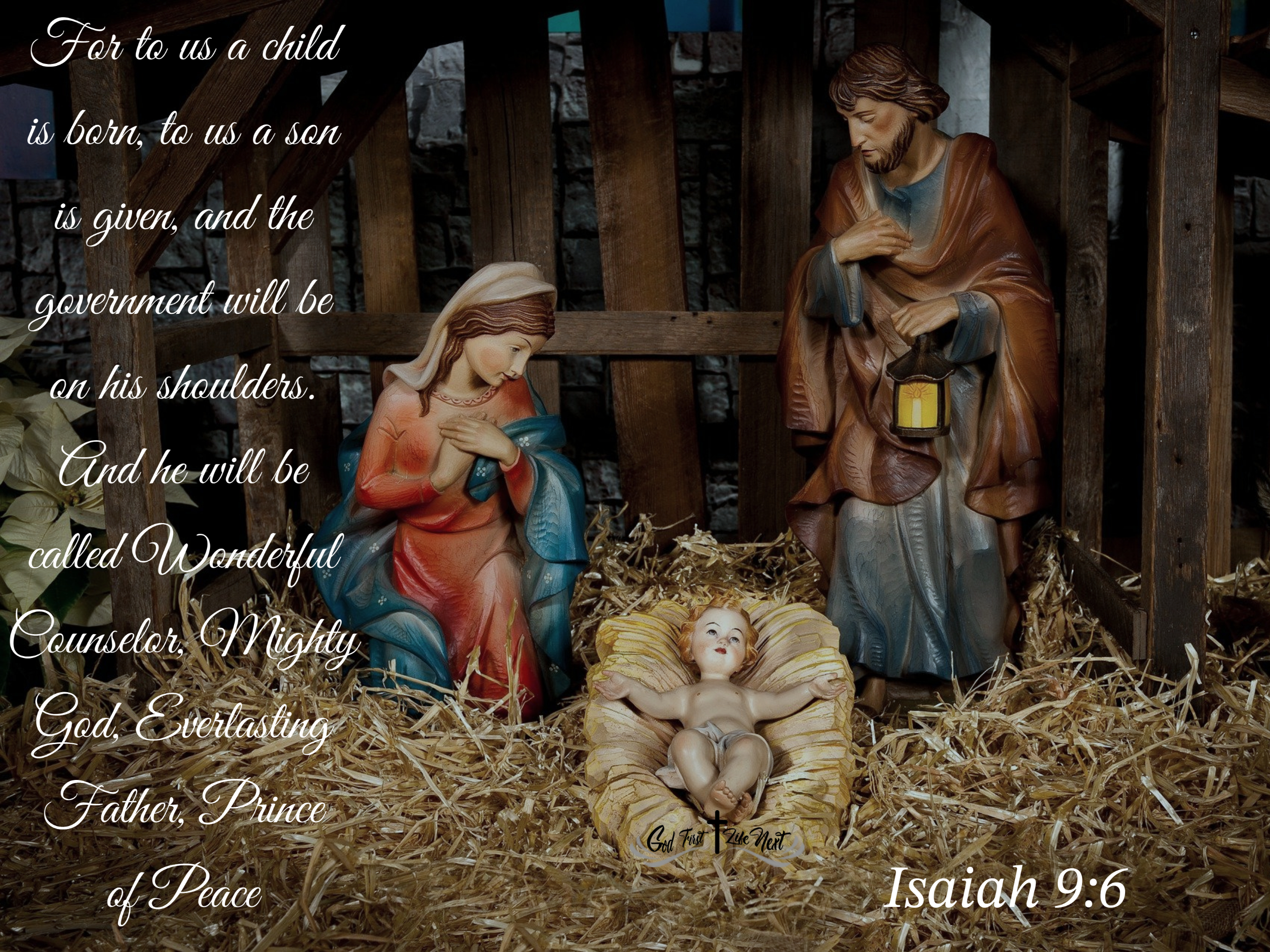 For to us a child is born, to us a son is given, and the government will be on his shoulders.  And he will be called Wonderful Counselor, Mighty God, Everlasting Father, Prince of Peace
Isaiah 9:6
Merry Christmas!!  
Last night as our family attended our local church's Christmas Eve services, we sang several of the Christmas songs. 
As we were singing Away in a Manger, the 5th verse hit me in a different way than ever before.
Be near me, Lord Jesus
I ask Thee to stay
Close by me forever
And love me, I pray
Bless all the dear children
In Thy tender care
And take us to Heaven
To live with Thee there
Right now, I KNOW that I needed to hear that verse of the song.  
We all need God to be close to us, forever.
How do we do that?  
Well, one way is to be in constant prayer.  
Give everything to God.  
Yes, that means all of your worries and troubles.  
If you are struggling financially give your finances to God, if you are struggling with a relationship, give it to God.  If you are not sure which road to take (job offer, career direction, to be engaged, to have kids, you get the picture) give the decision to God.
Don't stop with just giving it to God though, accept his guidance when he gives it to you.
Another way to be closer to the Lord is to spend time in his word.
Reading the Bible always helps me to connect with the good Lord.  I also enjoy going to church.  It seems like every time we go God fills my heart with another devotional.  He encourages me to share his word with the world.  
This brings us to our last one.  Never be afraid to share God's word with anyone and everyone.
Bless all the dear children In Thy tender care.
Who are God's Children?
We know that Christ was God's son whom he loves (Matthew 3:17).  We also know that we are ALL his brothers and sisters (Luke 8:19-21).  As long as we hear the word of God and do it.
I am always excited about Christmas time.  The Celebration of Jesus's birth, the Christmas lights, the family time, seeing the joy on others, shocking strangers in public by talking to them to say "Merry Christmas" (Lol) 
Today I want to encourage you to tell everyone you meet, "Merry Christmas," or "God Bless", or "Christ is born", or "God is Great".  You get the picture.  Shout from the rooftops that today we celebrate the birth of a Wonderful Counselor, Mighty God, Everlasting Father, Prince of Peace.
Prayer
Lord today we want to thank you for everything that you have ever blessed us within our lives!  We thank you for giving us your son to show the world that you do know our pain.  We thank you for being there for us when we need you.  Lord today we pray that you Be near me, Lord Jesus I ask, Thee to stay, Close by me forever, And love me,  I pray Bless all the dear children, In Thy tender care, And take us to Heaven, To live with Thee there
Amen
Will you pray with us?
Mankind throughout the world throughout our current situation
All Law enforcement and emergency response personnel
For all military personal serving our country and their families
Those in Leadership positions throughout the world
Prayer
Lord, today we come to you with HAPPY hearts.  We are so grateful that you give us the opportunity to change the lives of those around us.  We are grateful that you give us the wisdom to change our lives and the lives of those around us.  And you make it so simple. We can do it with a single smile. God today I would ask that you help us to smile more. The next time we see someone down, help us to smile for them. The next time we are down, help us to remember that you gave us the best gift ever. The ability to know you, your son, and the holy spirit. God, we are so grateful for everything you give us.
We ask all these things in your Precious Son's Name
Amen
A Little More
 The other day I got a call from one of our clients.
I love talking to our clients so I always smile when I answer the phone.
"Hey Dan, one of my drivers is pulled over and they are saying that our permit doesn't cover what we weigh. Isn't that why we hire your team to make sure that these things don't happen!"
My smile immediately vanished.
I was shocked because my team is amazing. and it's not like them to miss something like 20,000 lbs on a permit.
So, I asked him, "Who have you been working with, and who was the one who called our team to get the permit?" 
To get to the bottom of the problem I needed the details.
They gave me the details.
My next call was to my team. Then after I got the details I got them started on getting new permits to get the problem fixed. I'm a solutions guy, not an excuses guy.
But I NEED to know the real reason why it happened so that we can fix the issue.
My next call was to the driver so that I could see exactly what happened.
I knew he was going to be upset. He was pulled over and they were going to give him a HUGE ticket. I wouldn't be happy either.
so……
I made sure not to smile when I made the call.  I had a serious look on my face. As we chatted I learned that he was the person who gave his weight to our team. I asked where he got the weights from and how in the world they were off by over 20K lbs!
That's when he told me that he might have gotten the wrong scale ticket from the weigh station where he originally weighed.
Immediately my heart leapt with joy, this is NOT our fault!
Now to get the problem resolved and get this driver back on the road was my only goal.  I was not going to assign blame or make anyone feel bad. 
Hey, we all make mistakes. I do it multiple times every single day.
The owner of the company shot me a text. I'm getting permits from the big guys. They won't make these mistakes that cost me time and $$$$$.
No problem.  Let me know if you need anything. We are here to help.
Well……..
After they called the "BIG Guys" they called me about 30 minutes later.
Hey, we can't get an Idaho permit until Monday. It's Friday night. And we need to drop this load off tomorrow afternoon.
I told him that I would NOT make any promises.
But my team went to work!
Guess what????
We got the permits that the "BIG Guys" couldn't get.
My team had the Idaho permit in less than 20 minutes. For the right weight this time.
Here's the point of all this.
When things don't go right, smile. I have taught my whole team this.
That right there is how we got the permits. They smiled as they worked and it didn't take any time at all.
Ok, there might be a little knowledge that went into this too. Lol
Next time you need anything DOT, don't call the "Big Guys" , call the team who can get it done!
Dan Greer