Santa Christmas is about Christ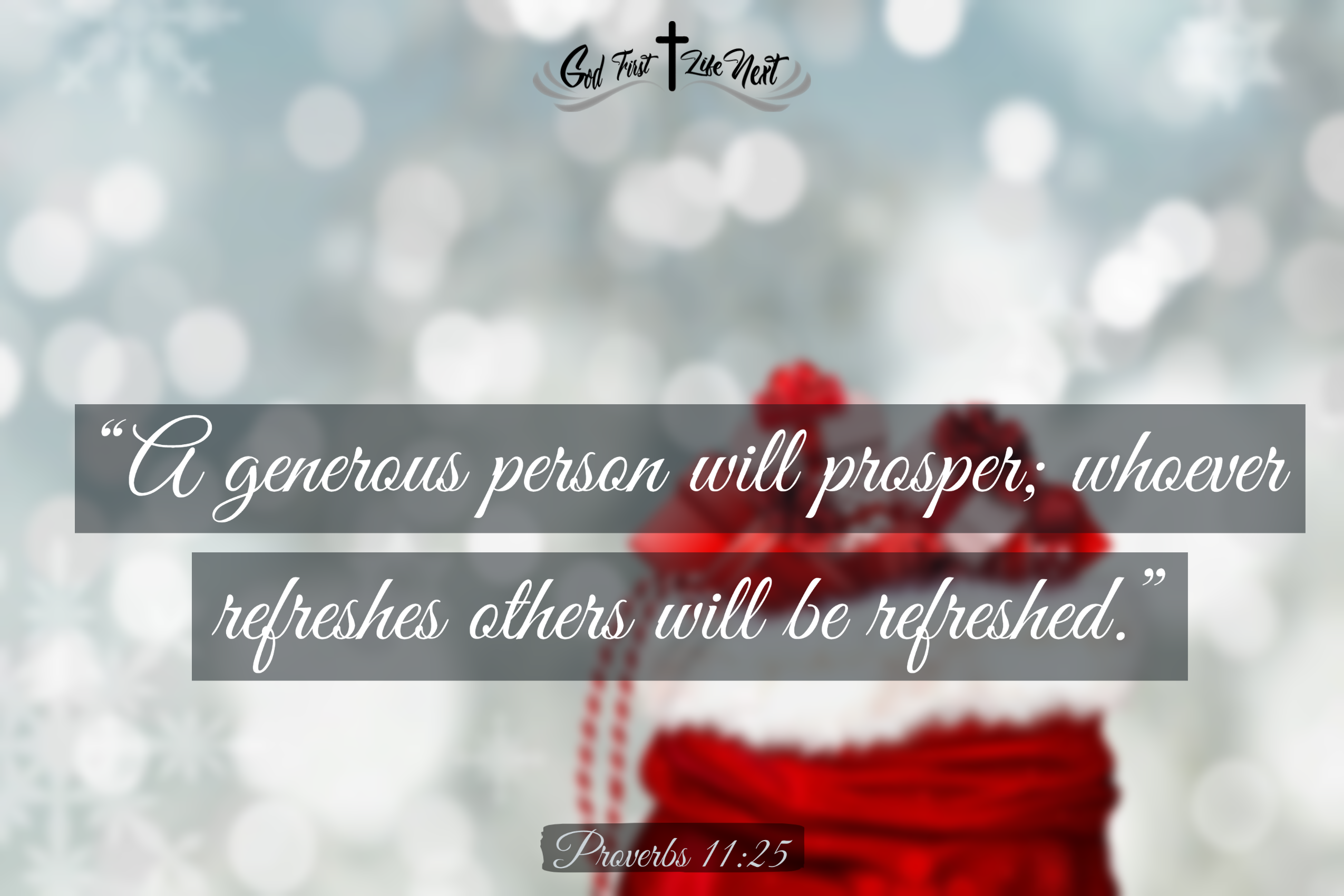 "A generous person will prosper; whoever refreshes others will be refreshed."
Proverbs 11:25
"A generous person will prosper; whoever refreshes others will be refreshed." –Proverbs 11:25
Today marks the start of the Christmas season.
This means that we have probably already started buying presents for others and getting ready for the big holiday. 
This holiday is so big that even the biggest stores shut down for one day so that their employees can spend time with their families.
It also means that around every corner is a Santa.
Here's my question for you. Why don't we see mangers on every corner and in every mall instead of just churches?
It's because Santa Sells more presents than Jesus does.
Having kids myself, 4 of those little monsters, just kidding. They aren't always monsters, just most of the time. 
I know how much excitement this season brings them. 
But why does it bring them joy?
Is it because they get gifts? Because they get to go to the Christmas eve service at the church? Or because they get to celebrate Jesus's birthday? or is the excitement of the possibility of catching Santa Clause?
For our kids, it was all three of those plus the fact that they got to give gifts to others.
That's why Santa is so exciting to kids and parents alike.  It allows the parents, the opportunity to give their kids gifts with a small part of Anonymity.  They get to give a gift, without getting the credit.
Exactly what the bible tells us to do.  In Matthew 6:3, do not let your left know what your right hand is doing.
In other words, when we give gifts we should do it with the intention of not claiming any of the credit for the gift. 
Instead give the gift with Anonymity, instead of expecting reciprocation.
All too often we give gifts with the hope that we will get something back even better than what we gave.
Recently I had the privilege to hear Tony Robbins tell a little about his past.
He talked about how when he was younger they were broke.  So broke that they couldn't afford to put dinner on the able ½ the time, and especially not at Christmas. 
Then someone came by to drop off Christmas dinner.  All they had to do was cook it.
To make a long story short. That night changed your Tony Robbins life. He was about 10 years old when it happened.
Years later he had the opportunity to give back.  So he went to a local church and asked the pastor if he knew of any families that could really use a pick me up. 
Then rented a van and went grocery shopping.  He bought several full dinners and then went to deliver them.
His full intention was to deliver them with Anonymity to the families. Hence why he rented a van.
He showed up and pretended to be a delivery guy and knocked on the first door.  When they answered it and saw that he had armloads of groceries. They ran at him and hugged him.
The look on their faces brought him more joy than he could have ever imagined possible.
I didn't tell you this story to make you want to go out and give away meals to those who need them, although that is a great idea.
I didn't tell you this to let you know how amazing Tony Robbins is.
I told you because of the gifts that he gave night, the ones that he did and tried to keep them secrete. And probably did for years afterward as well. Where some of the best gifts that he has ever given.
So get out there and give the gift love! Give the fist of Christ!
Take Action
Today I want you to think back to a time when you gave a gift to someone in need. Someone who truly had a HUGE need that you were able to fill.
Maybe it was a small gift or maybe it was HUGE like a vehicle for them to drive.
How did that make you feel?
Wouldn't you like to feel that way every day?
I know that we all struggle at times with money.  Shoot I seem to struggle with it every day.  One day has come and the next it seems that it all disappeared.
Why is it that when we hit harder times the first thing we stop doing is giving back?
Why is it that we feel that the only thing that we can give back with is $$?
Think about a way that you can give back to someone who truly needs it. And no I'm not talking about the person on the street corner who is asking for a handout.
I'm talking about the mom or dad, lady or guy, boy or girl, who are truly struggling and are too proud to ask for help.  The ones that can't pay their power bill or heating bill. The ones who truly desperately need help but can't ask for it.
Those are the people that you should seek out.
Prayer
Lord, God, father in heaven. We are so grateful for all the blessings that you have given us.  We know that you are amazing and that you give us more than we deserve every day.  God, we are grateful that you continue to bless us. And that you will continue to bless us.  God today we pray that you give us the courage to give gifts, not for the reciprocation or glory that we receive from the gift. But instead, help us to give them in secrete so that we may see the joy, but not accept any of the credit.  Help us to give gifts through you for you. God, we know that this won't be easy, but it will be worth it. Just like in Mark 12:44, help us to give out of our poverty, not our wealth. God thank you for the opportunity to grow with you. Thank you for the opportunity to touch others' lives.  God, we pray that you would help this ministry and community to GROW.  Help it to grow, not to acknowledge us, but to acknowledge you and your greatness.  Help us to see where we can give back and who truly needs it.  God, we are so grateful for everything and everyone that you have placed in our lives! Thank you
Amen
A Little More
The story that Tony told sure resonated with me when I heard it.  It was extremely powerful.
I'm 100% sure that you have similar stories of your own.
And if you can't think of any, now is a great time to change that! 
We have always tried to listen to God as much as possible.  (Jenna has always been better at it than I am though.)
We have both been blessed to be raised in strong Christian households. Jenna went to church every Sunday and my mom went every Sunday, but as teens, we had the choice to go or not.  We always went on Christmas eve and easter though. (As a teen not being forced into something, made me a stronger believer in the end. Thanks for the opportunity to make a choice.)
When Jenna and I were younger we had several vehicles and only used a couple of them.  We were also very blessed to have people give us the old stuff that they no longer needed.
And we were collectors. so, we took everything and said, we will find a way to use this in the future. (Boy has that changed)
Anyways, we heard through the grapevine that one of our friends who just got married only had one vehicle. 
Their wife would get up at 5:30 drive them to work, then go to work herself and after she got off she would go back out to his work and pic him up.  Or he would find a ride home some days because their schedules never synced up.
We never heard them complained and neither did anyone else around them.
The way we found out was because someone else was admiring their dedication to making it work.
Anyways….
One night as we sat around watching TV and chatting, we started talking about selling our car. 
Let me tell you about this car.  I bought it when I was 17 years old and it was a 1987 mustang GT. It had a little cylinder and we tried and tried to get it to run right but could never truly figure out why it wouldn't.
We thought being newlyweds it sure would be nice to have a little extra money in our pockets.  Then pretty much at the same time, we both said, hey what about our friends?
I knew that he was mechanically inclined so he wouldn't mind doing a little work to the car, then they could use it or sell it or whatever. 
The next time we went to their house. We sat down and started chatting.  Then about halfway through I said "Hey let's go look at this car we brought down and see if we can get running better, it's been running rough for a while now. and I just can't figure it out."
We walked outside, I started it, he said shut it down.  So I did, he messed around a little under the hood (for the mechanics in the group all he did was turn the distributor a little so that it synced up better) literally less than 2 min later and no tools, he said to start it up.  I did and it purred to life and ran way better!
Then after we got done. I handed him the keys and said Hey bud thanks for the help.  Can you guys use this car, I know that your wife has been driving you to work and you have been buming rides home.
He asked how I knew. I just told him that it wasn't a big deal, and we were thinking about selling the car anyway so they should take it and use it.
After loads of convincing, both agreed to take the car. 
He drove it for several years until they could finally afford to buy another one.
I didn't tell you this story to show what good people we are. In fact, if I were completely honest it was an internal fight to give the car away after it ran so much better the night he fixed it.
No, I told you this story because you need to know that it's ok to give gifts to others, even big gifts.  And they don't have to cost you anything. 
The other reason I told you this was to let you know that God is speaking to you.  It might be a small voice inside your head, it might be a sign or a signal, it might even be through a dream.
It is our job to listen when he talks. 
So, get out there and start listening for the subtle signs and signals that God is giving you.
Oh yeah and share this with someone who really needs it.
Will you pray with us?
Mankind throughout the world throughout our current situation
All Law enforcement and emergency response personnel
For all military personal serving our country and their families
Those in Leadership positions throughout the world
Prayer
Lord, today we come to you with HAPPY hearts.  We are so grateful that you give us the opportunity to change the lives of those around us.  We are grateful that you give us the wisdom to change our lives and the lives of those around us.  And you make it so simple. We can do it with a single smile. God today I would ask that you help us to smile more. The next time we see someone down, help us to smile for them. The next time we are down, help us to remember that you gave us the best gift ever. The ability to know you, your son, and the holy spirit. God, we are so grateful for everything you give us.
We ask all these things in your Precious Son's Name
Amen
A Little More
 The other day I got a call from one of our clients.
I love talking to our clients so I always smile when I answer the phone.
"Hey Dan, one of my drivers is pulled over and they are saying that our permit doesn't cover what we weigh. Isn't that why we hire your team to make sure that these things don't happen!"
My smile immediately vanished.
I was shocked because my team is amazing. and it's not like them to miss something like 20,000 lbs on a permit.
So, I asked him, "Who have you been working with, and who was the one who called our team to get the permit?" 
To get to the bottom of the problem I needed the details.
They gave me the details.
My next call was to my team. Then after I got the details I got them started on getting new permits to get the problem fixed. I'm a solutions guy, not an excuses guy.
But I NEED to know the real reason why it happened so that we can fix the issue.
My next call was to the driver so that I could see exactly what happened.
I knew he was going to be upset. He was pulled over and they were going to give him a HUGE ticket. I wouldn't be happy either.
so……
I made sure not to smile when I made the call.  I had a serious look on my face. As we chatted I learned that he was the person who gave his weight to our team. I asked where he got the weights from and how in the world they were off by over 20K lbs!
That's when he told me that he might have gotten the wrong scale ticket from the weigh station where he originally weighed.
Immediately my heart leapt with joy, this is NOT our fault!
Now to get the problem resolved and get this driver back on the road was my only goal.  I was not going to assign blame or make anyone feel bad. 
Hey, we all make mistakes. I do it multiple times every single day.
The owner of the company shot me a text. I'm getting permits from the big guys. They won't make these mistakes that cost me time and $$$$$.
No problem.  Let me know if you need anything. We are here to help.
Well……..
After they called the "BIG Guys" they called me about 30 minutes later.
Hey, we can't get an Idaho permit until Monday. It's Friday night. And we need to drop this load off tomorrow afternoon.
I told him that I would NOT make any promises.
But my team went to work!
Guess what????
We got the permits that the "BIG Guys" couldn't get.
My team had the Idaho permit in less than 20 minutes. For the right weight this time.
Here's the point of all this.
When things don't go right, smile. I have taught my whole team this.
That right there is how we got the permits. They smiled as they worked and it didn't take any time at all.
Ok, there might be a little knowledge that went into this too. Lol
Next time you need anything DOT, don't call the "Big Guys" , call the team who can get it done!
Dan Greer