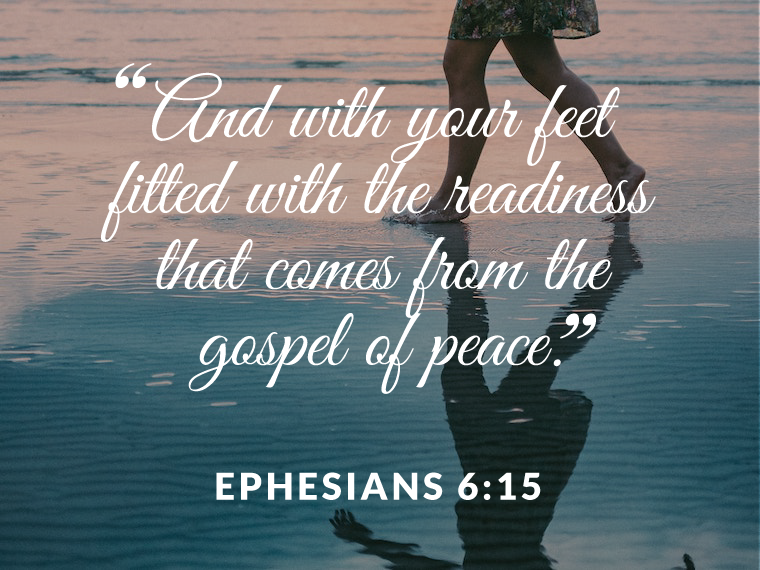 "And with your feet fitted with the readiness that comes from the gospel of peace. "
Ephesians 6:15
When was the last time you walked barefooted? On the beach doesn't count either. My kids would tell me yesterday. Think back to how it felt. Was it easy? did you walk slower? Did you take time to look before each step to make sure that you wouldn't step on anything?
The point is that having shoes on makes it easier to walk doesn't it.
God gives us the shoes of peace that come from the gospel. He knows that if we spend time getting to know his words then we will be able to move quicker in "tricky" situations.
Another great way to look at this is to watch any sport for a few moments. This time when you watch, look at their feet. What did you notice? They have special shoes for each sport. Lacrosse requires different shoes than golf. God gives us the right shoes for each situation if we are well versed in his word. He knows what we need and he give it to us freely.
Look at the stance now, each player has a different one. Let's take football for an example. The Quarterback has a different stance than the linebacker does. One is set for protecting while the other is ready to run back and look for an opening. God gives those same techniques, ok maybe not the exact same but close. Through his word, the bible, he gives us truths to stand and fight sin. He also gives us the knowledge to look for an opening to help bring others closer to him.
The point of all this is that, being well versed in God's word has many advantages. One is being at peace with every situation because we know that God has equipped us for every situation.
Let's throw a parenting example out there. If you are a parent, you know that when you reprimand your children each one is different. Personally we have one that if you raise your voice at all they shutdown. We have another that any type of correction is the absolutely worst thing that you could do. We have another that seems to learn from other parent figures better than us. The point of this is that God gives us the choice of how to discipline our children and he gives us the knowledge of how to achieve the best results. Every situation is different. He gives us the right "shoes" or knowledge to make the best decisions.
My parents discovered the same thing. They could simply tell my brother that he would get thumped and he would straighten out and fly right. On the other hand, they would tell me the same thing and I would tell them to go ahead. When they told me to sit on my hands that was the worst thing in the world. You see God gave them 'feet fitted with the readiness that comes from the gospel of peace.'
Now we have the belt of truth, knowing that the truth will set us free. He gave us the breastplate of righteousness to protect our vital organs with righteous acts. Now we have the "shoes" of peace from the gospel, these allow us to know that he has giving us different "shoes" for every situation.
Prayer
Lord thank you for everything that you have given us. We are greatful that you give us the option to wear the belt of truth. We are even more greatful for the breastplate of righteousness to protect our heart. We are equally thankful that you give us different "shoes" throughout your gospel. We are grateful to have the ability learn how to use each pair of "shoes" for your good. Lord we would like to ask for your help finding the right "shoes" for each task. We ask that you guide us to the right place in your word to find the "shoes" we need. Lord help us to place full trust in you.
Amen
Will you pray with us?
Mankind throughout the world throughout our current situation
All Law enforcement and emergency response personnel
For all military personal serving our country and their families
Those in Leadership positions throughout the world
Prayer
Lord, today we come to you with HAPPY hearts.  We are so grateful that you give us the opportunity to change the lives of those around us.  We are grateful that you give us the wisdom to change our lives and the lives of those around us.  And you make it so simple. We can do it with a single smile. God today I would ask that you help us to smile more. The next time we see someone down, help us to smile for them. The next time we are down, help us to remember that you gave us the best gift ever. The ability to know you, your son, and the holy spirit. God, we are so grateful for everything you give us.
We ask all these things in your Precious Son's Name
Amen
A Little More
 The other day I got a call from one of our clients.
I love talking to our clients so I always smile when I answer the phone.
"Hey Dan, one of my drivers is pulled over and they are saying that our permit doesn't cover what we weigh. Isn't that why we hire your team to make sure that these things don't happen!"
My smile immediately vanished.
I was shocked because my team is amazing. and it's not like them to miss something like 20,000 lbs on a permit.
So, I asked him, "Who have you been working with, and who was the one who called our team to get the permit?" 
To get to the bottom of the problem I needed the details.
They gave me the details.
My next call was to my team. Then after I got the details I got them started on getting new permits to get the problem fixed. I'm a solutions guy, not an excuses guy.
But I NEED to know the real reason why it happened so that we can fix the issue.
My next call was to the driver so that I could see exactly what happened.
I knew he was going to be upset. He was pulled over and they were going to give him a HUGE ticket. I wouldn't be happy either.
so……
I made sure not to smile when I made the call.  I had a serious look on my face. As we chatted I learned that he was the person who gave his weight to our team. I asked where he got the weights from and how in the world they were off by over 20K lbs!
That's when he told me that he might have gotten the wrong scale ticket from the weigh station where he originally weighed.
Immediately my heart leapt with joy, this is NOT our fault!
Now to get the problem resolved and get this driver back on the road was my only goal.  I was not going to assign blame or make anyone feel bad. 
Hey, we all make mistakes. I do it multiple times every single day.
The owner of the company shot me a text. I'm getting permits from the big guys. They won't make these mistakes that cost me time and $$$$$.
No problem.  Let me know if you need anything. We are here to help.
Well……..
After they called the "BIG Guys" they called me about 30 minutes later.
Hey, we can't get an Idaho permit until Monday. It's Friday night. And we need to drop this load off tomorrow afternoon.
I told him that I would NOT make any promises.
But my team went to work!
Guess what????
We got the permits that the "BIG Guys" couldn't get.
My team had the Idaho permit in less than 20 minutes. For the right weight this time.
Here's the point of all this.
When things don't go right, smile. I have taught my whole team this.
That right there is how we got the permits. They smiled as they worked and it didn't take any time at all.
Ok, there might be a little knowledge that went into this too. Lol
Next time you need anything DOT, don't call the "Big Guys" , call the team who can get it done!
Dan Greer