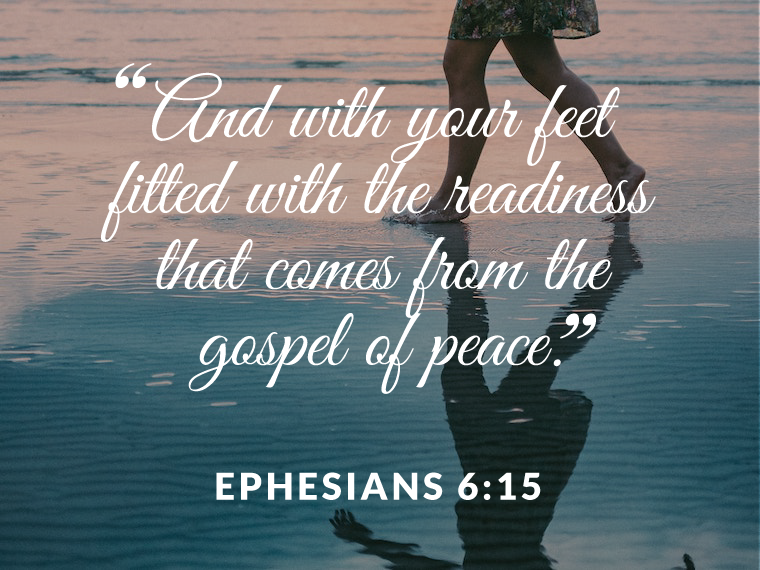 "And with your feet fitted with the readiness that comes from the gospel of peace. "
Ephesians 6:15
When was the last time you walked barefooted? On the beach doesn't count either. My kids would tell me yesterday. Think back to how it felt. Was it easy? did you walk slower? Did you take time to look before each step to make sure that you wouldn't step on anything?
The point is that having shoes on makes it easier to walk doesn't it.
God gives us the shoes of peace that come from the gospel. He knows that if we spend time getting to know his words then we will be able to move quicker in "tricky" situations.
Another great way to look at this is to watch any sport for a few moments. This time when you watch, look at their feet. What did you notice? They have special shoes for each sport. Lacrosse requires different shoes than golf. God gives us the right shoes for each situation if we are well versed in his word. He knows what we need and he give it to us freely.
Look at the stance now, each player has a different one. Let's take football for an example. The Quarterback has a different stance than the linebacker does. One is set for protecting while the other is ready to run back and look for an opening. God gives those same techniques, ok maybe not the exact same but close. Through his word, the bible, he gives us truths to stand and fight sin. He also gives us the knowledge to look for an opening to help bring others closer to him.
The point of all this is that, being well versed in God's word has many advantages. One is being at peace with every situation because we know that God has equipped us for every situation.
Let's throw a parenting example out there. If you are a parent, you know that when you reprimand your children each one is different. Personally we have one that if you raise your voice at all they shutdown. We have another that any type of correction is the absolutely worst thing that you could do. We have another that seems to learn from other parent figures better than us. The point of this is that God gives us the choice of how to discipline our children and he gives us the knowledge of how to achieve the best results. Every situation is different. He gives us the right "shoes" or knowledge to make the best decisions.
My parents discovered the same thing. They could simply tell my brother that he would get thumped and he would straighten out and fly right. On the other hand, they would tell me the same thing and I would tell them to go ahead. When they told me to sit on my hands that was the worst thing in the world. You see God gave them 'feet fitted with the readiness that comes from the gospel of peace.'
Now we have the belt of truth, knowing that the truth will set us free. He gave us the breastplate of righteousness to protect our vital organs with righteous acts. Now we have the "shoes" of peace from the gospel, these allow us to know that he has giving us different "shoes" for every situation.
Prayer
Lord thank you for everything that you have given us. We are greatful that you give us the option to wear the belt of truth. We are even more greatful for the breastplate of righteousness to protect our heart. We are equally thankful that you give us different "shoes" throughout your gospel. We are grateful to have the ability learn how to use each pair of "shoes" for your good. Lord we would like to ask for your help finding the right "shoes" for each task. We ask that you guide us to the right place in your word to find the "shoes" we need. Lord help us to place full trust in you.
Amen
Will you pray with us?
Mankind throughout the world throughout our current situation
All Law enforcement and emergency response personnel
For all military personal serving our country and their families
Those in Leadership positions throughout the world