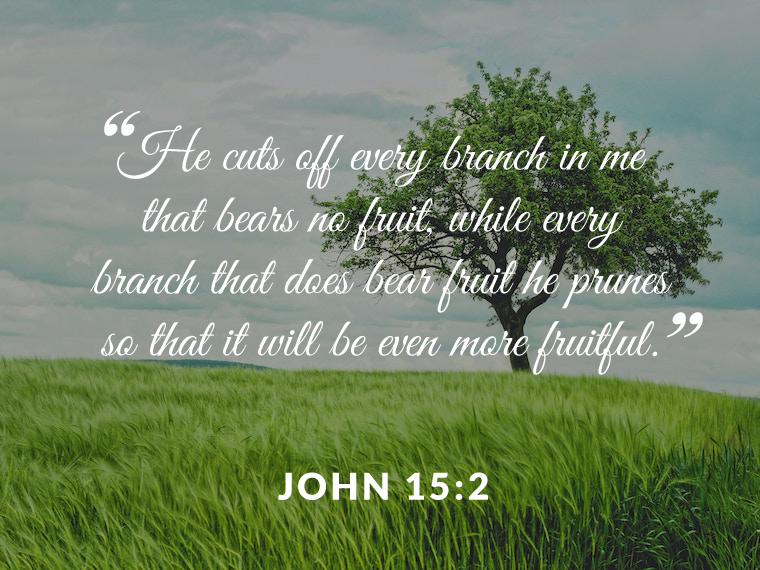 "He cuts off every branch in me that bears no fruit, while every branch that does bear fruit he prunes so that it will be even more fruitful."
John 15:2
Think about pruning a tree for a second. How do you think that tree feels before the branches are prune? Maybe a little out of shape, maybe a little heavy, maybe is so it doesn't fit in its "bark."
Do you think the tree likes being pruned? Doesn't like having his branches cut off some of its limbs that aren't dead cutaway? You think of the tree had feelings they would hurt?
You see I didn't understand this verse until just the other day.
It took a young child to bring the real meaning of light.
See I had a tree in my backyard when I planted it about half the tree died. Show the next spring when the green leaves came on we took a saw out and pruned the dead branches away.
When we were done, to say the least, the tree looked bare, almost naked.
As we were pruning my youngest son asked me, "dad doesn't this hurt the tree?"
I replied to him, "Well son, I'm sure it doesn't feel great! Wait a couple of years and we'll see how beautiful the tree is without all these dead branches."
You see God does the same thing to us. He takes a step back, he looks at us, and he sees all of these dead or dying branches. Then he gets his saw out him starts trimming those branches away.
In the beginning, it hurts, sometimes a lot. However, God knows what's best for us; he is looking at what will look like in a couple of years after he prunes us.
When we're in the middle of a bad situation, "getting pruned." We don't usually see the result. We hardly ever can see the results.
Today we want to encourage you to know that no matter what situation you're in God is in full control.
Prayer
Lord God, we come to you today to ask ask for your help. We ask that you allow us to let you prune us. To let you help us grow into what you need us to be. God, we are so grateful for the life that you give unto us every day. Some of those days are harder than others, and some of those days seemed almost too easy. Lord, we know you always see the bigger picture. So we pray that you help us trust you oh, trust your knowledge; trust everything you do for us. Because we know oh, God we know that you always have our best interest at heart. Thank you for "pruning" us.

Amen