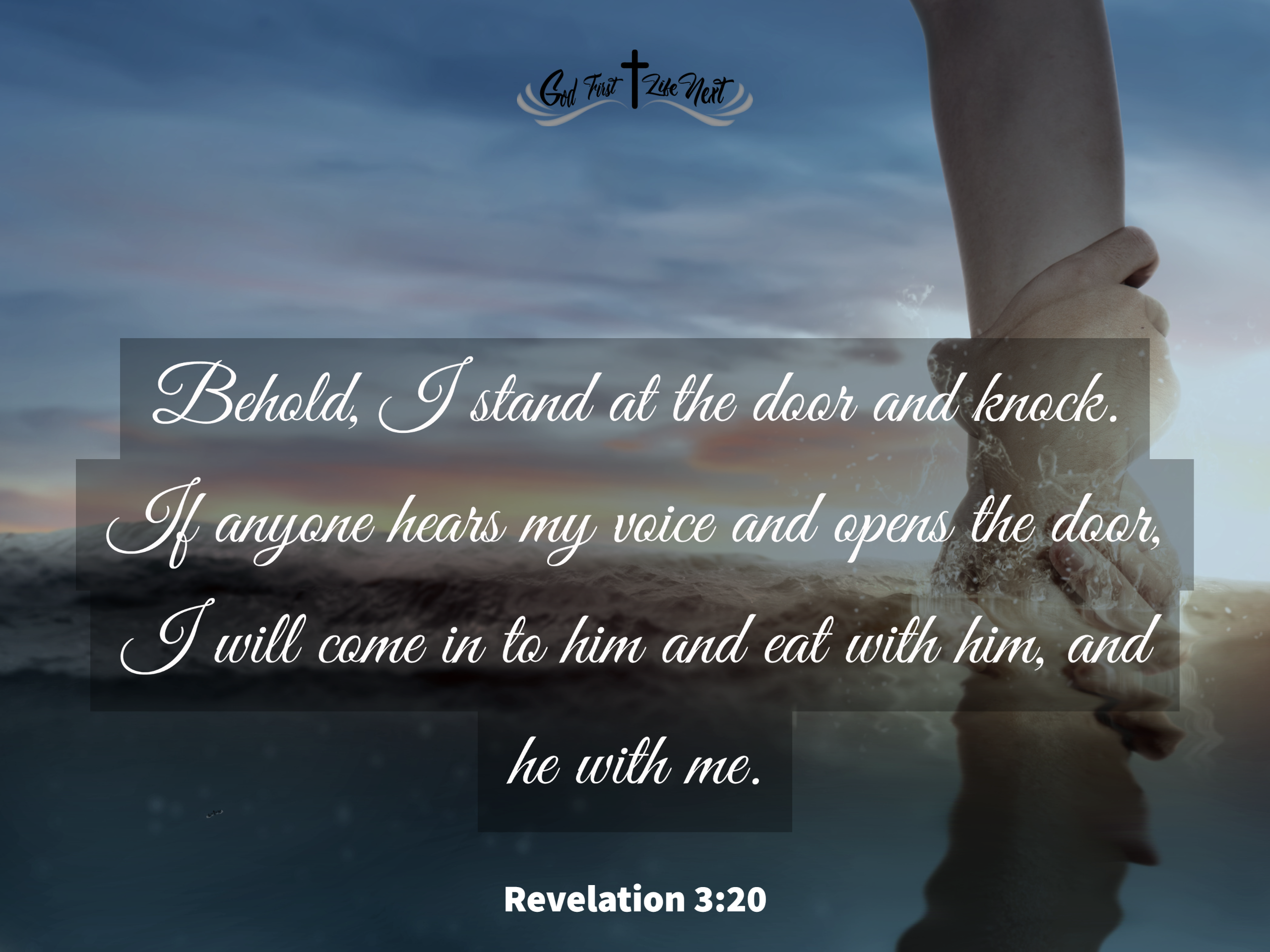 "Behold, I stand at the door and knock. If anyone hears my voice and opens the door, I will come in to him and eat with him, and he with me"
Revelation 3:20
Let's just start by saying that listening to God is not always easy!
True statement there.
Recently we were hiring another person for our company. Something that we do NOT take lightly.  Because when we invite someone into Eclipse DOT we are inviting them into our family.  
Not only that but they are leaving their current position and coming to work with us. Meaning that we are now responsible for their livelihood.  
Not something to be taken lightly.
Anyway….
In the past, we have hired people and it hasn't worked out so well. Which stinks. 
But we can come to the realization that we were not letting God in on the process.  
I mean we talked about how God has a MAJOR role in the business and how we are not afraid to let the world know that we are believers.  I mean every email I send a verse at the bottom and every page on our website has a verse on it too. 
No, I'm not bragging, I'm just saying that we are NOT afraid to let the world know where we stand on our faith.
Back to the main topic. (oooo look something shiny) 
When we made the decision on who to hire and went after them it never worked out.  But when we prayed and asked God to give us guidance and wisdom before the decision. It has always been amazing!
This extends way past bringing new people into our company.  We try to listen to God with everything.
It's not always easy either.
Like if I want a new car and God says, "Hey just hold your horses for a second, now's not the right time to buy." Sometimes I struggle to listen.
You see we can all hear him.  Even if you aren't sure you can hear him speaking to you, he is there.  
He is that voice that is giving us guidance. The one says, "you'll be ok to leave a high paying great job to start your own business when you only have one customer." or "Hey it's time to stop by and see grandma." or "you know that you should probably stop hanging around these people, they're not really helping to move you any further forward in the last 5 years. Maybe you should call this gal / guy and see if they want to grab a bite to eat."
He is there, always. We just have to accept that he IS speaking to us.
Take Action
This has become one of my favorite parts of the devotionals, TAKING ACTION!
Today I want you to acknowledge that God IS speaking to you.  Say it out loud.
What are you waiting for?
Say it with me, out loud (for reals do it). "God I KNOW that YOU speak to me"
Now stop and listen. 
What do you hear?
I heard, "Thank you for spreading my word through these devotionals" (wow God thanked me! How cool is that!!)
Time to take more action.
Next ask him for something, not a material thing but an answer to something that you are seeking. "Ask, and it will be given to you; seek, and you will find; knock, and it will be opened to you. Matthew 7:7-8 
Make it something simple and easy, not something like, "give me the answer of how to cure cancer." Let's save that one for another time.
Mine was, "God show me how to be a better father, husband, and leader for you."  he answered back with, "Trust in me always and do your best not to stray far from me and you will TRULY succeed at every endeavor you chose to embark on."
Prayer
Lord, God, Father almighty. Today we come to you full of energy, wisdom, and wealth.  We know that YOU speak to the US. We know that you give us guidance when we ask for it.  So today God we want to extend a prayer that you would constantly guide us in the direction that you need us to go in.  even if that is not the direction we initially wanted to go.  I am grateful that you speak to us, on different levels. I am thankful that you give us wisdom and love to share with the world.  Lord today I pray that you help us to share the gifts you give us with the world.  Help give us the courage to share our faith with everyone we come in contact with.  Help us to talk about you every chance we get.  Help us to hear you when you speak to us. Help us to see you when the guide is. Help us to go where you need us to go.  Help us to take that first step even when it is extremely uncomfortable.  Help us to take action when you need us to.  Help us to make that call when you tell us to call.  I think you get the point.  We need a LOT of help (or at least it does).  God, we are so grateful for everything that you give us.  Every piece of wisdom and advice that you share with us. We are thankful that you take time out of your busy day every day to give us reassurance. Even when we sin and don't do what we are supposed to do, you never give up on us.  You never disown us even when we don't deserve to claim to know you because we make massive mistakes.  God, you are such an amazing being and we are grateful to be able to say that we know you and trust you with all of our hearts and souls. Thank you
God, we ask all these things in your precious son's name
Amen
A Little More
As I wrote the last part of this devotional my mind flooded with times when I wanted to jump and God said, "hold your britches there Mr. Greer. It's not time yet."  
It also flooded with times when I was scared to death and God gave me the reassurance to take that first step.
A few of those times were when I asked Jenna to marry me.  When we decided to have kids.  When we bought our first truck. When we built our house. When we started our business. When we started the process to get DR Gary Chapman the author of the 5 love languages here to Durango, CO in 2022.
You see, I am not immune to being scared.  In fact, I am far from it.  I am scared every single day.
One of the most recent times I can think about being scared was taking pilots' lessons. 
You see, sitting in the back is relaxing to me. (even if Billy our 15-year-old son is flying, lol) but getting behind the sticks and actually being in control of the aircraft is one of the scariest things I have ever done.
Something you might know about our family is that every single one of the Greer's that I know does not like the highest.  My grandpa didn't love them, my dad had a hard time with them, my brother didn't even like to be on a roof, and me, well I had to conquer my fear when I was in the fire department. 
I worked for a small fire department when I was 18 for about a year.  And every day that I was on shift I would take the ladder truck out, set up the 75' ladder, and send it full out into the air into the middle of nowhere. 
Then I would climb it all the way to the top.
After I got up there I would strap in, lean back, and let go with my hands.
Let me tell you something, climbing a ladder into nothing but open air is extremely unnatural!
You see, the first time I climbed it I only made it about 20 feet off the ground. Then by the end of the first week, I was making it all the way to the top.  Then by the end of the second week, I was able to let go and close my eyes. 
My point here is that we have to face our fear, and listen to God.  
He told me what to do and I did it.
Flying is the same way for me.  I send up a quick prayer for a safe flight and then give the rest to him. About 5 min after takeoff I relax and know that he is in full control.  
My goal for my next lesson is to allow him to have control before I buckle my seatbelt.
I do have to say this. 
God put it in my heart when I was in high school that I needed to be in the air.  I had a love for the machines even then.
But I never knew just how much he really wanted me up there.
It is so amazing to see his creation from a different view. 
Here's the main point to all of this.
When things get hard and scary, LEAN ON GOD. 
Stop trying to take control of every situation and give it all to God. he has got this!
Will you pray with us?
Mankind throughout the world throughout our current situation
All Law enforcement and emergency response personnel
For all military personal serving our country and their families
Those in Leadership positions throughout the world