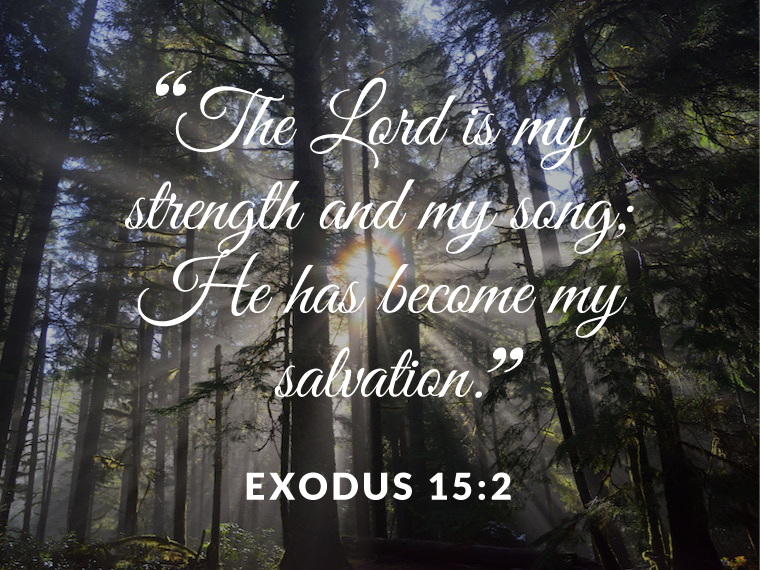 "The LORD is my strength and my song; He has become my salvation"
Exodus 15:2
When God gave us this verse over a month ago for a devotional all I could think is how is he going to use this verse to bring light to him even better.
If you have have been following us personally on facebook or IG you might have noticed that we recently completed an amazing trip with our family!
We hit 7 states, 5 national parks, 8 state parks, and made countless memories without family.  Over 84 hours and 4000 miles in 14 days in the car and we wouldn't trade any of it for the world!
The best part about the whole trip was hearing out kids give credit to God for all of the wonders he created!
God is the reason for everything! 
While we were walking through the Redwoods in Northern CA we saw a sign in a bench that read, "In the Quietness There Is Strength, Rest A While & Know That You Too Are Part Of God's World"
What an amazing thought. 
The same God that created the Oceans, Waterfalls, Rivers, Fields, Giant Redwood Trees, and amazing lakes also created you!
Today we want to encourage you to be humble and proud of yourself.  God created you for a reason, and yes you are even more amazing than any of the national parks!
Prayer
Lord today we want to say thank you for everything! Thank you for allowing us to be a part of your creation! Thank you for allowing us to see your creation! Most of all, thank you for creating ME!! God we know that you can do anything. Please help us to know that you are our strength in everything we do. Help us to make you our song that keeps us moving when we get tired. We know that you alone are our salvation, it is through your son that that you saved us. Lord it is with a humble heart that we say thank you. We ask all of this in Jesus's name.
Amen
Will you pray with us?
Mankind throughout the world throughout our current situation
All Law enforcement and emergency response personnel
For all military personal serving our country and their families
Those in Leadership positions throughout the world